Vauxhall Combo Life and Vivaro Life MPVs Now Electric Only
Vauxhall has revamped its MPV line-up for 2022, with the announcement that both the Combo Life and Vivaro Life MPVs will be available exclusively as electric vehicles only. This switch is part of Vauxhall's plan to offer 8 electrified models in the next 2 years, including plug-in and full-EV versions of the new Astra.
As part of the announcement, the brand also revealed revised pricing for its revised MPV range. Prices for the regular Combo-e Life start from £29,610 after the government's plug-in car grant deduction, while the seven-seat model costs £30,110, a reduction of £1,000 on both models. Above this, the extended-wheelbase XL model starts from £30,120, a price drop of £2,000.
Vauxhall has also applied similar cost savings to the larger Vivaro-e Life as well, which now starts at £30,295 compared with £30,495 previously. The long-wheelbase model now starts from £30,495, as opposed to £32,495.
The new pricing is effective from today (Jan 2022), and Vauxhall has confirmed that it will apply the lower prices to vehicles already ordered, with the exception of those purchased through special offers.
The Combo-e Life and Vivaro-e Life share the same 134bhp electric motor and 50kWh battery. In the smaller Combo-e Life, this powertrain provides a range of up to 174 miles, while the larger Vivaro-e Life can officially manage up to 143 miles. Both models support 100kW rapid charging, with a 0-80% top-up taking around 30 minutes. When connected to a 7kW home wallbox, a full charge takes around 7.5 hours.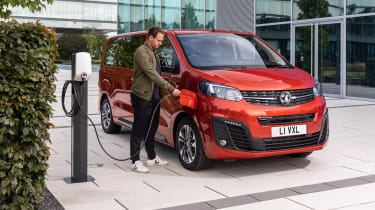 The Combo-e Life and Vivaro-e Life sit alongside Vauxhall's existing pure-electric offerings, the Corsa-e and Mokka-e. These will be joined later this year by plug-in hybrid versions of the new Astra hatchback and Sport Tourer estate, before a fully electric version arrives in 2023, furthering the brand's plan to offer only electric models by 2028.
Combo Life and Vivaro Life now electric only
100kW rapid charging standard on both models
On sale now starting from £29,610